With 2 inches of rain forecasted for Saturday 27 June, the Maryland Youth Cricket Association (MYCA) Championship Games were rescheduled for Sunday 28 June. As Bowie was hosting the matches at Rockledge Elementary School, the Bowie ground crew was out at 8:30am to remove a large puddle from the field and fill low spots with sand and topsoil. Even though the field was wet from all the rain, the artificial turf/concrete pitch made it possible for the matches to play.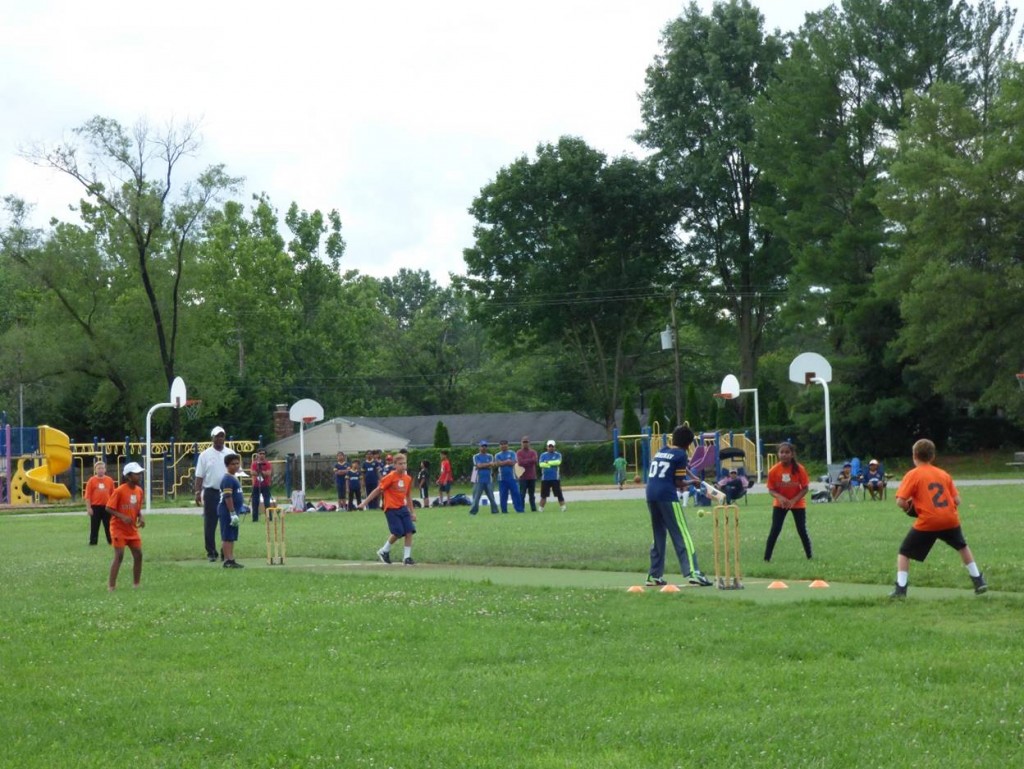 The crowd of spectators filed in setting their lawn chairs just outside the boundary line. The players from Germantown and Bowie were all set for an on-time start at 11:00am. Germantown's Mihir and Angali and Bowie's Lisa Ramjit and Joseph Zacharski took the toss with official umpire Roxroy Anderson in charge. Mihir called it right and won the toss, and as usual, Germantown decided to bat first, which was quite okay with Bowie.
Germantown started with their two best batsmen, Raghav and Abhinav. The Bowie opening bowlers Nathan Zacharski and Lisa Ramjit bowled accurately and made it difficult to score runs. The damp heavy grass did not help the batsmen either. Stevie Fleshman bowled next and delivered some quick ones, which wicketkeeper Nathan did well to hold on to. Joseph Zacharski and Donovan Brownlee kept the pressure on, and limited the big hitter Raghav and the patient Abhinav to singles. After 5 overs, Germantown were 12 runs for no wickets. The breakthrough for Bowie came in the sixth over with Fred Crenshaw getting Abhinav caught behind by wicketkeeper Nathan for 5 runs. In the same over, the ball got past the Nathan, and the batsmen decided to go for a run. Anthony Stills pounced on the ball and zipped it in to wicketkeeper Nathan to run out Raghav. In the very next over, Alyssa Logan had Germantown Shubh lobbing a high catch to Donovan Brownlee, who was more than eager to oblige and take a nice catch. Bowie's Abhinav Samuel closed out the first half giving up only 1 run in his over. With Germantown losing their 3 best batsmen in the first 8 overs for a total of 21 runs, Bowie felt good about their performance.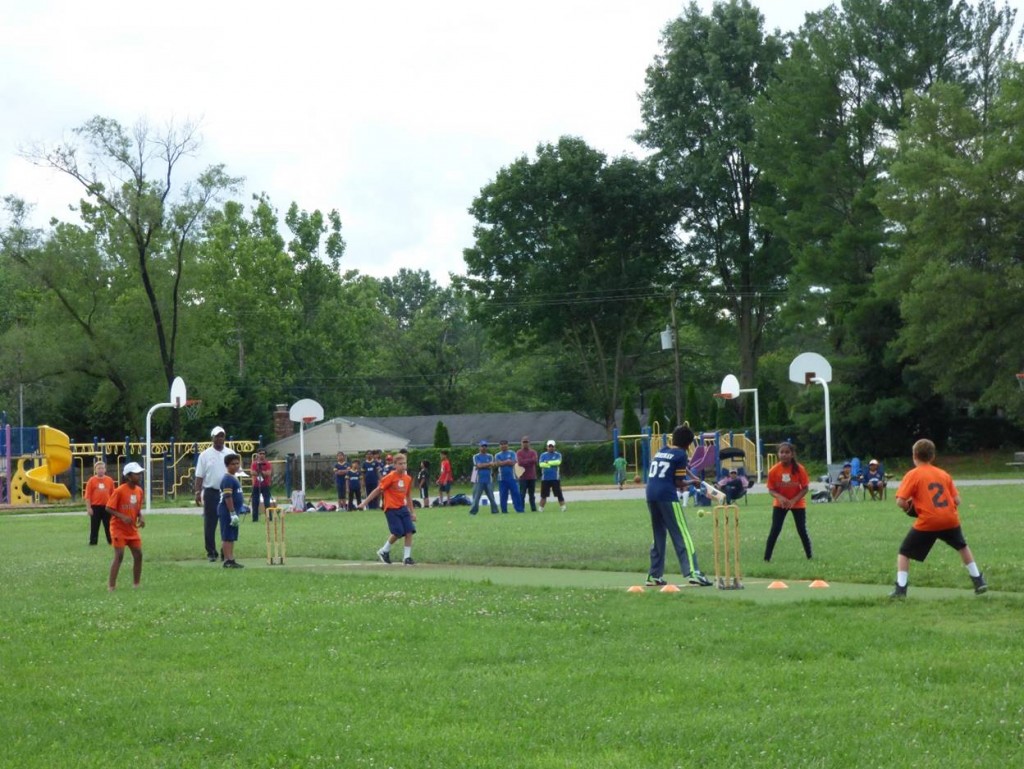 Now it was Bowie's turn to bat with Fred Crenshaw and Lee Reiter opening the batting. The diminutive pace bowler for Germantown, Santosh, opened the bowling and only gave up two runs in the first over. Santosh has proven to be one of the best bowlers in the league with his smooth long run-up and accurate, quick deliveries. Raghav followed and was also difficult to play giving up only 2 runs. Germantown's Abhinav bowled the third over and also was stingy with the runs. Fred and Lee were retired for the stylish Abhinav Samuel and hard-hitting Anthony Stills. With Bowie chipping away at the runs, Germantown got the breakthrough they needed in the fifth over. Abhinav got Abhinav Samuel caught behind by wicketkeeper Shubh for 1 run and Anthony Stills caught by Nihkil for two runs. Germantown's Ameya followed suit and got Lisa Ramjit for a duck (no runs) and Joshua Lesesne for 1 run both caught behind by wicketkeeper Shubh. Santosh was brought back into the attack to keep the pressure on. There was some concern for Germantown when Santosh appeared to have twisted his ankle after the first ball of the over. He then bowled 3 consecutive wides, but immediately made up for that by bowling Joseph Zacharski and Donovan Brownlee for ducks. Bowie's Alyssa Logan appeared to have been settling in at the wicket getting a nice pull shot for two runs. But she fell victim to Ameya getting bowled for 4 runs. After 8 overs, Bowie had a total of 22 runs, one more than Germantown, but had 7 outs with 3 ducks to curry.
Germantown was up to bat again. Nathan struck immediately getting the edge of Karthik's bat and wicketkeeper Alyssa jumping up in the air to make a brilliant, barehanded, one-hand catch. Lisa then got Ameya caught out by Donovan for 5 runs. Stevie was on the attack again and had Aryan bowled. But since the bails did not fall, Aryan was not out. In the same over, the Bowie fielders had Mihir run out for a duck. With Bowie unable to hold on to three more catches, Germantown slowly kept inching up the total score. An expensive 6-run over from Dononvan Brownlee took Germantown from 29 to 35. Alyssa bowled the 14th over and was unplayable, bowling the only maiden over (no runs given up) in the game. Bowie fielders were right on the money getting four run outs limiting Germantown to 39 runs in their 16 overs for 9 wickets (outs) with Aryan not out on 5 runs.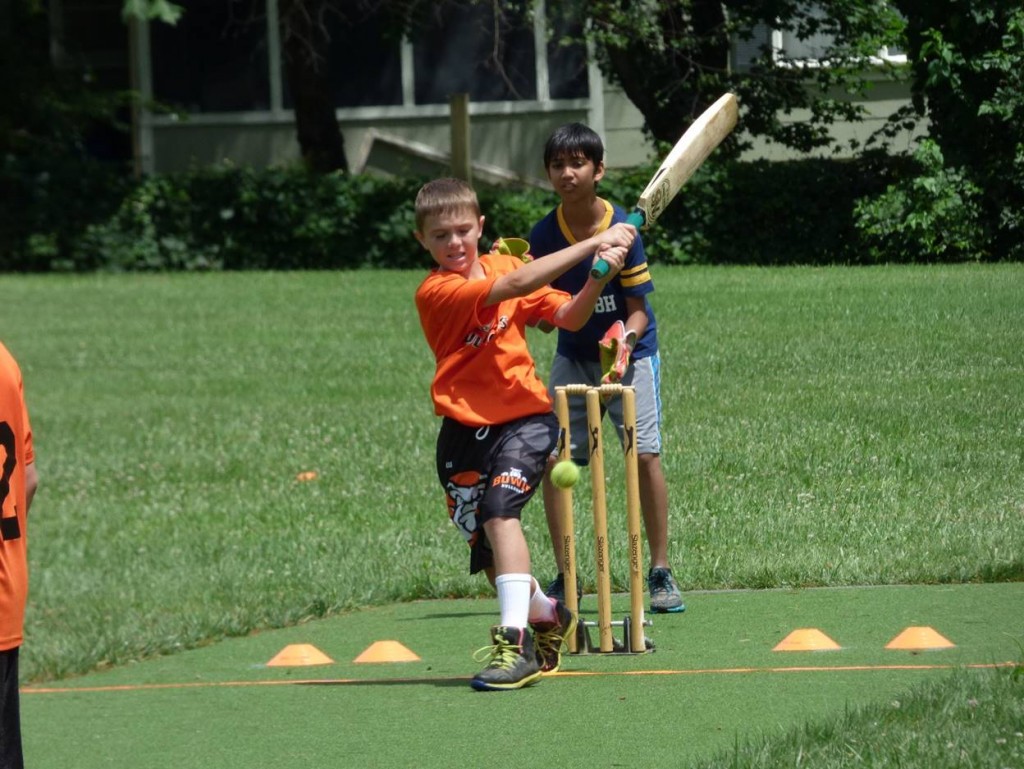 With their backs up against the wall having only 3 outs left to score 18 runs and key bowler Ameya raring to go, Bowie looked like they were headed for their third consecutive loss to Germantown in the MYCA finals. But no one told Stevie Fleshman that. Stevie had topped the elementary school cricket league batting in PG County, Maryland with a total of 150 runs, but he was struggling to make runs in the MYCA tournament. In the 9th over he hit Ameya for 2 sixes, which were the only two boundaries of the match. Nathan stayed with Stevie fending off a Yorker length ball from Raghav with a beautiful forward defensive stroke. With 1 run to go, Stevie pulled the ball to deep backward square leg for two runs winning the game for Bowie in fine style in the 11th over. Stevie was the top-scorer for the game with 17 runs not out.
The MVP for Germantown was Ameya for taking 3 wickets and scoring 5 runs.
For Bowie, MVP honors were shared by Alyssa Logan for her fine wicketkeeping, batting and bowling and by Stevie Fleshman for his excellent bowling and batting.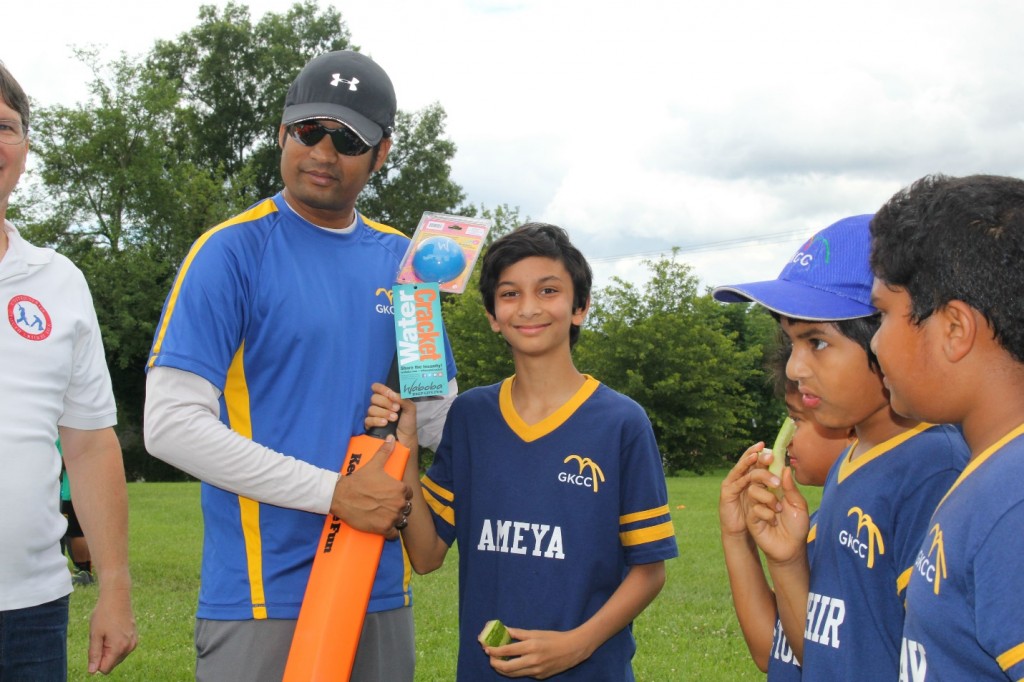 This was a total team effort for Bowie finishing the 2015 season undefeated. Bowie used 8 bowlers in the game, which was twice as many as Germantown. The team has shown that they can get the job done under pressure. Hats off to Coach Ren Logan and Coach Paul Zacharski for keeping the team focused and bringing out the best in the players to work as one unit. The Bowie 11U team comprised of the top players from the Bowie Elementary School Teams (BEST) Cricket League and the Washington Area Middle School (WAMS) Cricket League, which are the first elementary school and middles school cricket programs in the USA.